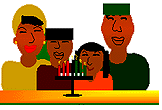 Kwanzaa is holiday celebrated by African-Americans. The holiday was started in 1966 by Dr. Maulana Karenga, Ph.D in 1966. It lasts from December 26 – January 1 and the foundations of the holiday are based on ancient African festivals. This seven-day celebration was created for African-Americans to think about their African heritage and present state.
The colors for Kwanzaa are black, red, and green — each color has a special meaning.
GREEN – The land of Africa; hope
BLACK – Color of the African race
RED – Blood shed by African ancestors
Kwanzaa's language and symbols have been derived from the Swahili language. For example, the Swahili words NGUZO SABA means Seven Principles. In the next section, the seven principles are shown.
Nguzo Saba or Seven Principles
Kujichagulia means Self Determination
Nia means Purpose
Kuumba means Creativity
Umoja means Unity
Ujima means Cooperative Work & Responsibility
Ujamaa means Cooperative Economics
Imani means Faith
Kwanzaa Symbols
Now let's learn about some symbols. There are seven symbols. The English meaning is shown in green below.
Mkeka – the mat
Kinara – the candleholder
Mishumaa Saba – the seven candles
Kikombe cha Umoja – the unity cup
Mazao – the crops
Muhindi – corn
Zawadi – gifts
The Seven Days of Kwanzaa
The Kinara sits on top of the Mkeka. Then the seven candles are placed in the Kinara. The seven candles represent the seven principles. Three red candles go on the right, three green candles go on the left and a black one is placed in the middle. The candles are lit each day beginning with the black one which represents Umoja. Each day after a candle is lit alternately from left to right.
On the final day of Kwanzaa, the children receive gifts. These gifts are usually an educational book, a heritage symbol or a toy/present.